Tilsa Tsuchiya is perhaps considered one of the greatest Peruvian visual artists of the twentieth century, receiving the prestigious Teknoquimica Prize for Painting in 1970. Tsuchiya attributed his unique mytho-surrealist aesthetic to his training at leading art institutions in Lima and Paris and the influence of its Japanese-Peruvian heritage.
Born the seventh of eight children in Supe, Peru, 1928, Tsuchiya was drawn to painting from a young age, later acknowledging her older brother Wilfredo's interest in drawing for having sparked her fascination with the visual arts. Tsuchiya's father, Yoshiguro, was born in Chiba, Japan and studied in the United States for several years before arriving in Peru; her mother, Maria Luisa Castillo, was born in Chavin, Peru, of Chinese and Peruvian descent. Tsuchiya's groundbreaking artistic career emerged directly from her experiences in the Nikkei immigrant community in Peru, which we'll explore here.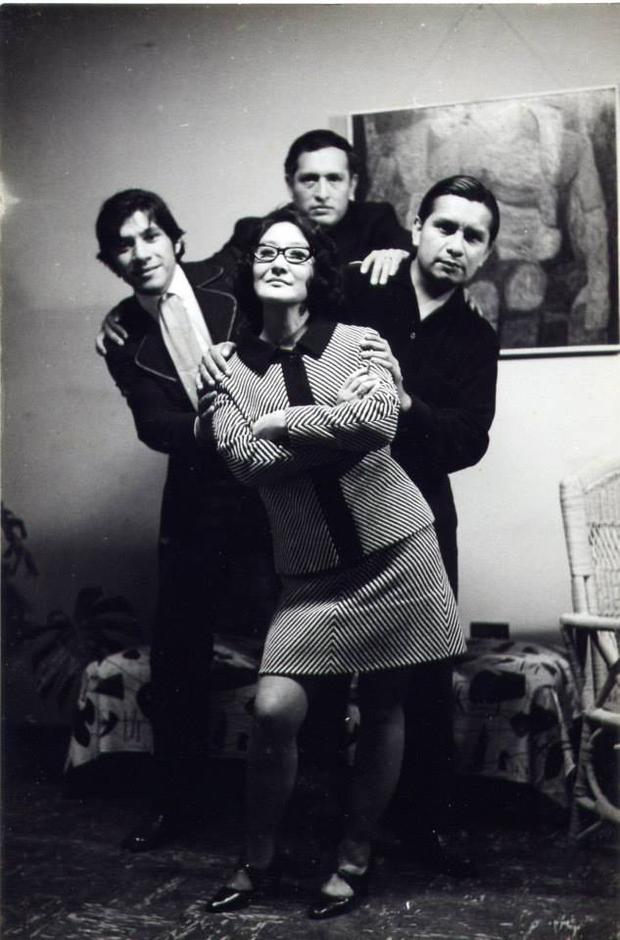 History of the Nikkei
While the Peruvian population of Japanese migrants, known as the Nikkei, increased throughout Tsuchiya's childhood in the 1930s, xenophobia and racial discrimination grew with them.
In 1936, Peru ended immigration from Japan after Peruvian newspapers accused the influx of Japanese immigrants of endangering the employment of Peruvians born in the country. The following year, the Peruvian government passed an executive decree that effectively removed the birthright, a right enshrined in the Peruvian constitution, from all children born to non-citizen parents. In 1940, a three-day anti-Japanese riot known as "SaqueoArose in Lima in response to rumors of an impending Japanese uprising, in which more than 600 Nikkei homes and businesses were destroyed, and 10 Japanese-Peruvians were killed.
Following the Imperial Japanese Navy Air Service's strike on Pearl Harbor in 1941, the US Office of Strategic Services – its wartime intelligence agency – identified the Peruvian population of over 25,000 Japanese-Pervus as a threat to American victory in the Pacific theater of war. In the name of "internal security", the Peruvian government has launched a campaign of surveillance, mass arrests and deportations targeting the Nikkei communities in Peru. Nikkei blacklists have been published in newspapers across Peru, and US FBI agents have been authorized by the local government to monitor Japanese-Peruvians. A letter by then US Ambassador to Peru, Raymond Henry Norweb, asserted that President Manuel Prado's ultimate intentions were, in fact, "the substantial elimination of the Japanese colony in Peru".
The Peruvian government began to coordinate with the United States to transport the arrested Nikkei to internment camps throughout the American Southwest. Although these arrests typically targeted men, their wives and children often accompanied the deported spouses and fathers, through a process that became known as "voluntary internment". Forcibly evicted from their homes, many Japanese-Peruvians were held alongside Japanese-Americans in Department of Justice internment camps, while many others were interned in "foreign detention camps" run by the US Department of Justice. immigration and nationalization in Texas and New Mexico.
Because the Peruvian government refused the return of the Nikkei at the end of the war, only 79 Japanese-Peruvians managed to return to Peru from the United States, while several hundred more were deported directly to Japan. Through the efforts of American civil rights lawyers, 364 Japanese-Peruvian men, women and children were granted permission to remain in the United States as refugees, although many found their new living conditions even more difficult: the families were transferred to Seabrook Farms in New Jersey to work as laborers in the company's barracks. The Nikkei who successfully returned to Peru themselves encountered extreme difficulties, for, like the Japanese-American internees, they returned to their former homes to see their possessions and expropriated property. While Tsuchiya's family were not among the many interned in the United States, the entire Nikkei community was devastated by the sudden loss of so many friends and neighbors. This shock undoubtedly influenced Tsuchiya's daring choice to situate her work at the heart of Peruvian cultural milieu, affirming through her choice of artistic subjects that the Nikkei like her belonged to the country despite all efforts to exclude them.
Tsuchiya in Peru
In the aftermath of the war, Tsuchiya began to attend the Escuela Nacional Superior Autónoma de Bellas Artes del Perú (ENSABAP) in Lima, where she trained in the workshops of Quispez Asín and Ricardo Grau and spent several years as a private painter student Manuel Zapata Orihuela, a leader from Peru indigenism art Movement. Orhuela's paintings often featured flat, brightly colored, stylized expressionist forms that drew inspiration from the region's pre-Columbian arts, Quechua culture, and the Andean landscape. The influence of Tsuchiya's several years of study with Orihuela will be evident in the future works of the painter Nikkei, as the Quechua aesthetic influence remained visible on his canvases throughout his career.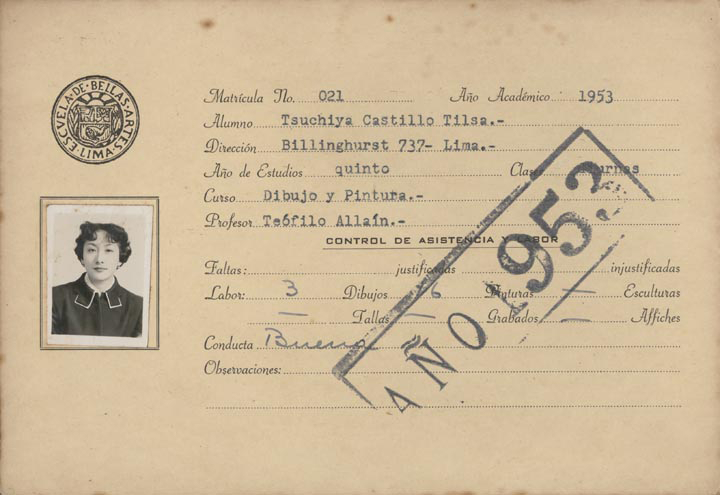 In 1949, Tsuchiya took a leave of absence from his artistic education following the death of his parents. She did not return to ENSABAP until 1954. When Tsuchiya graduated in 1959, she received the school's highest distinction, the Gran Medalla de Oro. The following year, she went to Paris to continue her studies at the École des Beaux-Arts. In France, Tsuchiya focused on printmaking and printmaking, exploring a darker palette and minimalist aesthetic in the unique style she had cultivated alongside Orihuela.
Although Tsuchiya's first solo exhibition at Instituto de Arte Contemporáneo de Lima took place immediately after graduation in 1959, it was his 1968 exhibition at the same museum that made the painter Nikkei famous, its dreamlike and alluring style receiving international attention. The exhibition took place three years after the Peruvian government offered the Japanese-Peruvians a plot of land in central Lima for the construction of the Centro Cultural Peruano Japanes, informal compensation for their persecution in wartime. Tsuchiya's canvases, populated with surrealist mythological figures and diaphanous landscapes, are also inspired by Tsuchiya's dual Japanese-Peruvian heritage and his many years of study of European artistic traditions. They evoked equally eroticism and the sublime, and raised pressing contemporary questions of gender and identity.
Tsuchiya's legacy
By the 1970s, Tsuchiya had cultivated a unique visual folklore that drew on Quechua, Japanese and European visual cultures, inventing his own myths and reinterpreting classic tales like Tristan and Isolde through sculptures, drawings and prints, all newly exhibited alongside his paintings. During an exhibition in 1976 entitled Mitos, which presented a series of works by Tsuchiya, including El mito del guerrero rojo, Mito del árbol, Mito de la mujer y el vuelo, Tuschiya explained to El Comercio how his works arose in relation to indigenous storytelling traditions, naming some of the "myths" that inspired his art: the "myth of the lagoon", "the myth of the red warrior" by Cerro de Pasco and the "myth of the bird "and the stones" of Cusco. She admitted that when the public looked at her paintings, "it's like they see inside of me."
Throughout his career, Tsuchiya has formed deep friendships with several poets and artists. After her infamous 1968 exhibition, poet Nikkei Jose watanabe started attending Tsuchiya's studio in Breña, and Tsuchiya also developed a well-known creative bond with the poet Arturo Corceura, with whom she illustrated a collection of poetry titled Delusional noah in 1971.
Three months before Tsuchiya's death in 1984, Petroperú held the first retrospective exhibition dedicated to his career, exhibiting around 50 works that Tsuchiya had produced since 1959. In the summer of 1987, Tsuchiya's work was presented as the sole representative from Peru in Fantastic Art: Latin America 1920-1927, an ambitious art exhibition organized in association with that year's Pan American Games in Indianapolis.
In the decades since his death, Tsuchiya's work remains celebrated in Peru and abroad. In the international art market, Tuschiya's works continue to sell for hundreds of thousands of dollars at auction, and in 2018 ENSABAP celebrated its centenary by posthumously awarding Tsuchiya the highest honor in the world. institution, the Medalla d'Honneur Daniel Hernandéz, in recognition of his enduring heritage in The National Arts and Culture of Peru.