The government extended the state of emergency declared in 10 districts of the regions of Huanuco, Pasco and Ucayali in order to strengthen the fight against organized crime linked to drug trafficking and related offenses, which is being carried out by the Peruvian National Police (PNP) and the Armed Forces.
This was stipulated by
Supreme Decree No. 171-2021-PCM
published Tuesday in the Official Journal
El Peruano
. The regulation provides that the measure will be in effect for 60 calendar days from Wednesday, November 17.
The extension of the state of emergency applies to the districts of Puerto Inca, Tournavista, Yuyapichis, Codo del Pozuzo and Honoria, located in the province of Puerto Inca (Huanuco region); Constitucion, Palcazu and Puerto Bermudez in the province of Oxapampa (Pasco region); as well as Raimondi, Sepahua and Tahuania in Atalaya province (Ucayali region).
The Supreme Decree indicates that the National Police ensure the control of internal order supported by the Armed Forces.
The document also specifies that the measure is adopted at the request of the National Police, which stresses that the objective is to perpetuate joint operations with the Armed Forces in order to strengthen the fight against organized crime linked to drug trafficking and offenses. connected in said quarters.
In addition, it provides that – during the prolongation of the state of emergency – the exercise of constitutional rights relating to individual freedoms and security, to the inviolability of the home, as well as to freedom of assembly and transit on the territory, remains restricted.
Regarding the intervention of the national police and the armed forces, the regulation specifies that it will be carried out in accordance with Decree-Law No. 1186, which regulates the use of force by the police, and Decree-Law No. 1095 , which sets the rules. regulating the use of force by the Armed Forces throughout the national territory.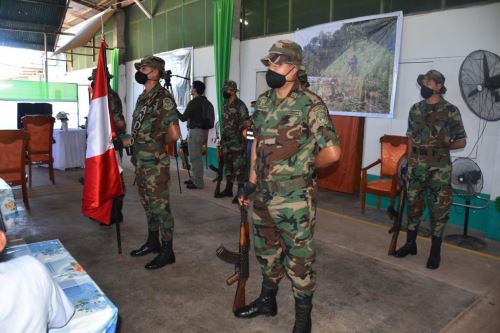 Finally, it provides that the implementation of the actions envisaged in this supreme decree will be financed from the budgets of the institutions concerned.
The supreme decree was signed last Monday by the
President of the Republic Pedro Castillo
, Prime Minister Mirtha Vasquez, as well as Ministers Avelino Guillen (Interior), Walter Ayala (Defense) and Anibal Torres (Justice and Human Rights).
(FIN) MAO / RMB / MVB
Posted: 11/16/2021